In keeping with the Harvest 25th anniversary theme, when I was asked to put together a short bio on myself, I thought ..hey what was I doing 25 years ago? Well, in April, 25 years ago I was only 39 years old.. YIKES! I was the General Manger at a Shopping Centre in Regina. Fun times… I even got to meet Prince Andrew when I was the emcee of a ribbon cutting ceremony he participated in. So much protocol…. Do not touch him…..let him initiate a hand shake… let him initiate a conversation and any discussion. Nice guy.. I guess I was surprised when he asked me …How was I chosen to be the emcee. (Darned if I know…I was on the Exec of the downtown business Improvement district, and managed the mall that was downtown adjacent to the property that was having the ribbon cutting ceremony.)
It was in Regina where I took my 1st golf swings. It was more out of necessity than desire, as there were some business golf tournaments that I was required to participate in. The whole idea of actually taking lessons came when there were 4 of us ladies who were able to be the last tee time for one of these tournaments. None of us golfed, and they were closing the course after our tee time, so we thought we would do 9 holes. The 1st hole was 600 yards, and it took us an hour. YUP a whole hour! So many giggles and laughs, but it was the perfect way to as a group to decide to take group lessons.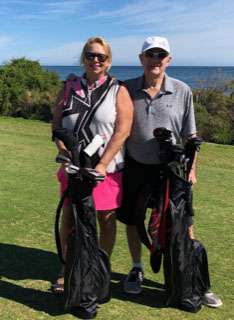 From a personal stand point, the great thing about this decision to take golf lessons was that it caused a lot of great adventures for my fella and for years to come. We have golfed in every province in Canada and in 5 other countries. We did golf in Scotland at St Andrews Scotland, but I think the courses we loved best were at Mont Tremblant in Quebec, well, maybe tied with the Rodd resort courses we golfed in PEI. I was transferred to Calgary in 1999 to manage a different shopping centre and I was part of a team that participated in a $90 million dollar expansion and renovation.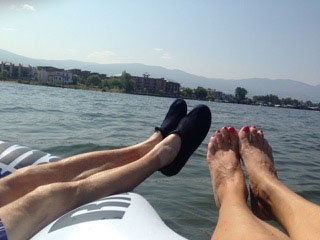 In 2010 I retired and we became homeless in Canada…but in a good way. We sold our home in Calgary, and put our possessions in storage because we knew Calgary wasn't where we wanted to retire. We owned a condo in Arizona, spent the winter there, and in Spring rented a condo in Kelowna for the summer to decide whether this was where we wanted to retire. We ended up not buying anything that summer, and went back to Arizona for the next winter. In Spring of 2011 we came back to Kelowna and bought our townhouse, got our possessions settled and in June joined the Harvest golf club. We had no family and no friends in Kelowna. In 2011 we had 25 members in our ladies golf league, compared to the 70+ we have today. Even with such a small membership very quickly we were able to able to gain friendships. According to Kathy Krasnov "Jane gets things done and was instrumental in getting the Harvest Ladies 2 Ball tournament started."
In 2015, I accepted the position of Vice Captain working with Paula Thorburn the Captain that year. As Vice Captain I saw an opportunity to help our group bond more, and make any new members feel welcome and informed. With Paula's support and the support of the executive I was given a green light to pursue this further. In the fall of 2015 I cornered my friend Florence Bortoluzzi and asked her if she would consider letting her name stand for the role of Secretary for the 2016 season, with some added responsibilities of looking to implement something called "A new member Ambassador Program" I had amalgamated many templates, and word documents but needed someone talented to pull them all together and move it all forward. Well for sure, Florence was our girl wonder and pulled all the info into the mini handbook, enlisted the support of Trish Beatty and they created the template for unveiling the New member Ambassador program in 2016. So, it's golf season 2019. The 25th anniversary of the Harvest. I am now 64 years old and loving life in Kelowna! Very blessed and happy.